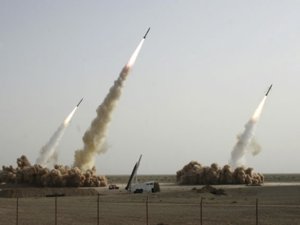 I have been stating that Israel will attack Iran before Bush leaves office for a while now. WHY? They do not trust the Marxist Messiah, Hussein Obama.


I also think that Iran already has nukes that they bought from the Russians and all of this is a smoke screen to drag the USA and Israel into WWIII.

We shall find out very very soon...
Informed sources in Washington tell Newsmax that Israel indeed will launch a strike against Iran's nuclear facilities soon – possibly in just days as President George W. Bush prepares to leave office.
The reason: The time clock has begun to run out. Iran is close to acquiring a nuclear device under the control of its radical president, Mahmoud Ahmadinejad.
International Atomic Energy Agency Director General Mohamed ElBaradei said in June that Iran would have a nuclear weapon in as little as six months.
That six-month period has passed
http://www.newsmax.com/headlines/israel_iran_attack_plan/2009/01/12/170485.html